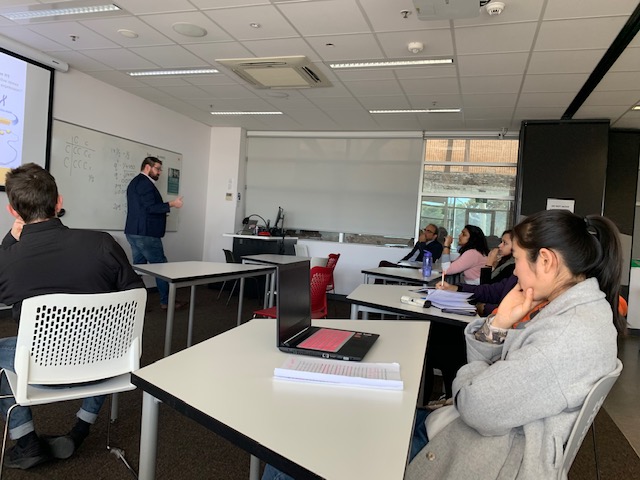 During Lab meeting, we have been honored to receive Flinders University guest lecturers as part of the Barry Murphy Seminar Series. These guests have spoken about themes which pertain to our work with biopolymers.
Barry Murhpy Seminar Series.
Professor Youhong Tang, material scientist, lectured about;
His work with polymeric materials and nanocomposites especially on rubber and epoxy based resins.
Biosensors incorporating novel aggregation-induced emission materials (photoluminescent materials/SEM) to understand the stress evolution in polymer films. (Light emitting molecules reveal the mechanics of films under tensile stress)
Associate Professor Justin Chalker, lectured about the use of Sulfur in polymers.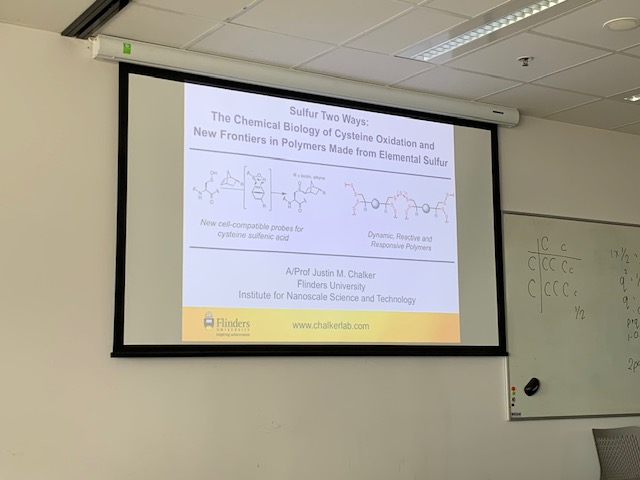 Two different themes in sulfur chemistry.
Making probes to trap cysteine sulfenic acid (biomarker for oxidative stress and associated disease) on proteins and live cells: thus mapping cysteine sulfenic acid inside cell. Proteonomics analysis  has revealed 148 proteins previously unknown to produce oxidative stress.
Synthesis and applications of polymers made from 50% – 80% sulfur by mass; inspired by Jeff Pyun's concept of "inverse vulcanisation". These polymers can be designed toward; desired mechanical, thermal and optical properties; new concepts in repair and recycling of polymer materials. Applications for these polymers include environmental remediation (oil spill), controlled release fertilisers and mercury/cyanide free gold mining.